I WISH PET AIRWAYS FLEW IN EVERY CITY!
In 2010 I rescued a beautiful girl from a high kill shelter in NY. I had to get her to the west coast, so I contacted Pet Airways to help me. I had heard the dogs flew inside cabin, not in cargo, which I was ecstatic about. Mia of Manhattan arrived in excellent condition at LAX with a note on her crate saying she was a pleasure to walk in Chicago. I wish Pet Airways flew in every city.
 — Mary Kirtle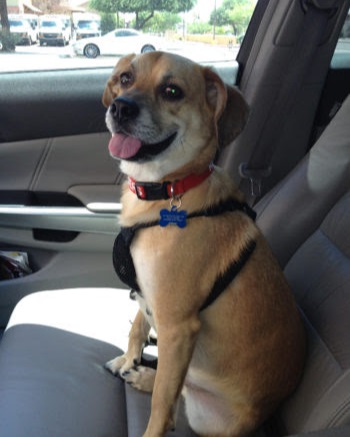 WHEN I MET ROCKY IN ARIZONA, HE HAD A WAGGY TAIL AND WAS SO HAPPY TO SEE ME!
When we were moving cross country, from New Jersey to Arizona, I spent hours and days researching the best, and most importantly, the safest way to transport my dog, Rocky, a 6 year old puggle. It was the middle of the hot summer and the commercial airlines I spoke with couldn't 'guarantee' that my dog would make it safely. Rocky would be flying cargo, and they all told me that while the airplane was on the ground, cargo wouldn't have air conditioning. If the airplane was delayed on the ground for any length of time, especially in 100 degrees and in Arizona, it wasn't safe. Then, I found Pet Airways. The agents I spoke with on the phone (yes, I called several tomes being a very anxious pet parent) were ALL so nice and informative and CARING! Safety was their #1 concern. The decision was very easy. While they had my dog for almost 24 hours (the plane made several stops along the way for picks ups, drop offs, and potty breaks( they called me to give me reassurance that Rocky was doing great and where they were. He stopped in four different states. When I met Rocky in Arizona, he had a waggy tail and was so happy to see me! It was the best moment ever. I thank Pet Airways for the first class treatment, Rocky flew on a private jet just for pets, and arrived perfetly happy and safe! I would recommend this airline to anyone and everyone!
— Jennifer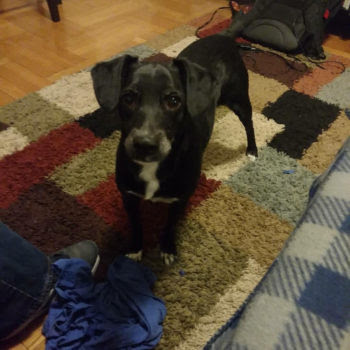 WE CAME ACROSS PET AIRWAYS AND WERE SO THANKFUL WE DID.
We used Pet Airways in August of 2011. My husband and I were moving from Phoenix to NYC for graduate school. Our dog, Minnie, was the most difficult piece in our move. We didn't want to have to rent a car and drive across country, nor did we feel safe putting her in cargo. We came across Pet Airways and we're so thankful we did.
The flight was a little less than 24 hours. We loved that they stopped every couple of hours to feed and walk her. The staff in Arizona and NY were kind and helpful. We even received a full report when she landed of when she ate and went to the bathroom. Minnie is a rescue dog – she was literally thrown from a car. She's a shy and timid dog, but came out happy. I thought for sure she wouldn't eat, but she did!
The only downside was the expense, but for us it was still the cheapest option since we weren't driving across country. The airports were a bit out of the way, but easy to get to. If we decide to move across country again, we would definitely use them! It was worth the cost! 
— Natasha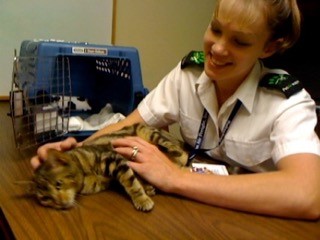 I'M SO GLAD THAT YOU GUYS ARE COMING BACK!
Here's my story: In 2009, I saw this picture online. Within seconds, I knew little Wolfie would be mine. But he was in California and I was in New Jersey. About two weeks prior, I had read about Pet Airways. Thank goodness for your service!!! After a harrowing experience actually getting him to the airport, he finally made his way across the country. Read the full story here. This is my first meeting with him. Michelle at the Pet Airways terminal was wonderful. Today, over eight years later, I'm still in love. He's sleeping at my feet right now. He has his own Facebook page and 5K followers and I've shared info about Pet Airways there several times. I love to hear that you will be providing flights for rescue pets! I'm an animal transporter (mostly cats) and I know how important it is to get the animals where the demand is. Good luck in getting back to where you were before!
— Deb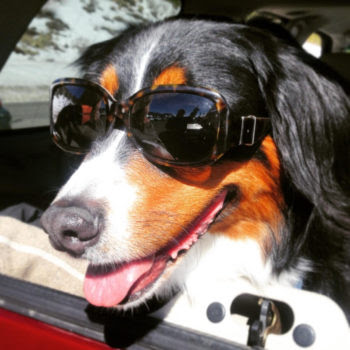 YOU HELPED US RESCUE AND FLY ZOE BACK FROM CHICAGO 6 YEARS AGO
You helped us rescue and fly Zoe back from Chicago 6 years ago. ♥️
We just had to transport another rescue Bernese Mountain Dog on United cargo (with us on the plane, him under it) and it was an AWFUL experience. Please come back soon and many thanks!
– Kaethy

THE ALL PET AIRLINE TREATED OUR FOUR LEGGED CHILD, BAILEY, LIKE ROYALTY!
Pet Airways was a life saver when we were flying our family dog back and forth several times between the Washington D.C. area and Denver, Co. The all pet airline treated our four legged child, Bailey, like royalty! Each time she flew, the trip required an overnight stay before continuing on its way to the final destination. At those stops as well as during the flight, we as pet owners were privy to updates on the wellbeing of our little girl. The employees on both the phone and in person were well informed, polite, and very caring individuals. We were sad to see the original Pet Airways stop flying. This service is dearly missed and we can't wait to see the airlines be reconstituted and provide this valuable service again.
— Ira & Valerie Shapiro
PET AIRWAYS GIVES ME PEACE OF MIND
Pet Airways believes that pets deserve to travel with the utmost comfort and safety, as respected and valued passengers, not as 'cargo' in the way that commercial airlines handle them. Pet Airways gives me peace of mind that my pets will arrive safe and sound — and alive — at our destination. You can't put a price on that! 
— Karin, San Francisco, CA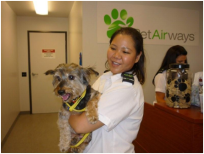 FLYING MY THELMA TRUE TO NEBRASKA!
Thank you so much for flying my Thelma True to Nebraska! Thelma was rescued from euthanasia at a shelter in California and was being cared for by Animal Rescue of Fresno (ARF) for four months. Thelma was overlooked by potential adopters because of her age. For some reason, no one wanted to adopt a 14-year-old dog, regardless of how sweet and adorable she may be! My beloved Grace (a larger version of Thelma) passed away in May. Shortly after that, I saw a photo of Thelma on Petfinder. I just couldn't get her out of my mind and pulled up her photo just about every day for the next few months. Every time I would log onto the website, I would hold my breath, wondering if someone had adopted her. I couldn't figure out if I wanted her to be adopted (for her sake) or if I selfishly wanted her to always be there! One day I finally decided I was ready to add another dog to my canine family. I sent an email to ARF, asking if they ever adopted out of state. I was ecstatic to find that they were willing to allow me to adopt Thelma. The next step was finding a safe way to transport a 14-year-old dog half-way across the country. I didn't want her flying in a cargo area. I didn't want her traveling in an 18-wheeler, thinking that the stress of traveling for that many days might be to much for her. I found Pet Airways but was very disappointed to not see Omaha, NE listed as a Pet Airways destination. It was purely a stroke of luck that allowed me to see a photo in some newspaper article that was captioned "Omaha, NE." I called and found out that Thelma could, indeed, travel via Pet Airways. October 8th was the earliest flight available, and at 8:00 on a Thursday evening I was able to meet my Thelma face-to-face for the first time. If it was not for Pet Airways, I would not have been able to bring Thelma into my home and my heart. She has been such an amazing addition to the family. She still has so much energy for a senior gal. It has become her mission in life to draw my foster dog out of his shell and teach him how to play. He's catching on quickly, and the two of them have so much fun bouncing and playbowing around! 
— Cindy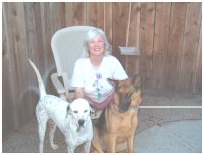 Brodie, our deaf AmBulldog was in good hands
Pet Airway just flew Brodie, a deaf AmBulldog from Chicago to Denver today. Brodie is a rescue dog going to a new forever home. And this was the least stressful way to get him most of the way there. The foster at the Chicago end said the check in counter was clean, the staff were friendly, and the pilot even allowed himself to get kissed by a large AmBulldog tongue. On the Denver end, the newest foster noted how clean, and friendly everyone was. They even had a dog out in a play area, and seemed to rotate the dogs through. Thank you Pet Airway for a stress free trip for Brodie.
— Katrina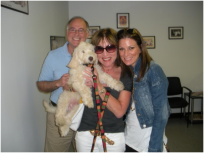 MY AUSTRALIAN LABRADOODLES ARE IN GOOD HANDS
Thanks Pet Airways. Can't say enough about your personal service and true concern for our beloved puppies. I have shipped many pups to families and you guys are by far the best!! My Australian labradoodles are in good hands. 
— Kristin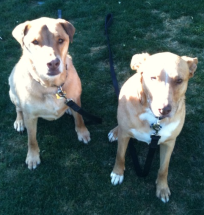 A
LL OF THE STAFF WAS AWESOME
My dog, Beemer (L), and Scout (R) were good pals from when I lived Denver. I moved back to Palm Springs. Sadly, over Thanksgiving 2009, Scout's owner died. The family asked if I would adopt Scout and reunite the "couple". Naturally I said, "Yes!" And, when discussing her travel plans, I insisted on using PETAIRWAYS. And, Scout was treated like royalty! All of the staff was awesome and I could tell that their #1 priority is the pet's safety and comfort. Days after the trip, I got notes on Facebook from the LA/Hawthorne ground crew inquiring as to Scout's well being. WOW! Love you Pet Airways! 
— Robert, Palm Spring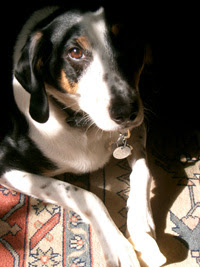 MY DOG IS LIKE A SON TO ME!
sI have recently moved away from home following graduation from my university. Throughout college, I was living with my dog Toby in an apartment. As I have now switched coasts to start a new job, I was left no choice but to leave my dog with my parents given the distance and my fear for putting my dog in the cargo compartment. My dog is like a son to me so this has been rather difficult. When I found out about Pet Airways I almost came to tears thinking that I could safely bring my dog to the west coast with me. I am so excited for Pet Airways and I know Toby will be on one their first flights. 
— Cyrus, Los Angeles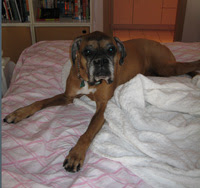 WE ARE ALWAYS SAD TO LEAVE THEM WHEN WE GO ON VACATION.
Daisy and Lola are a part of our family. We are always sad to leave them when we go on vacation. Now with Pet Airways, they can be a part of all of our adventures! Finally, a company that understands no member of the family should be left behind. 
—Adriana, Florida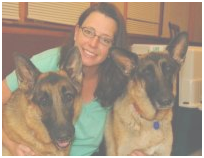 FLYING OUR TWO GERMAN SHEPHERDS FROM LA TO NY SAFELY
I just have to thank you again, Pet Airways, for flying our two German Shepherds from LA to NY safely on August 13/14. They are adjusting to their new home (and family) just fine. They were treated so well by your staff! THANK YOU!
— Tamm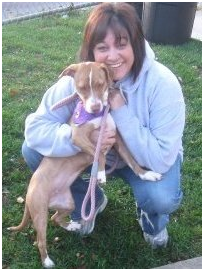 THANK YOU TO ALL WHO ARE CARING FOR OUR PETS FROM CHICAGO TO LA
Thank you to all who are caring for our pets from Chicago to LA, My little Lola will be going to now live with her Mom and Dad in California. She is looking forward to the warm weather. It was hard to let her go but knowing she is safe and going home is going to make it all better. Praising God and Pet Airways, Lola made it to Cali safe and sound! Thanks to you all!
— Lisa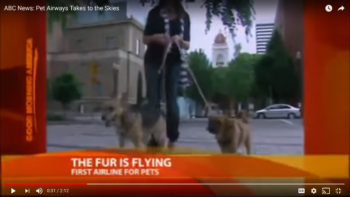 WE FLEW WITH YOU FROM PORTLAND TO CHICAGO!
We flew with you from Portland to Chicago! We knew nobody in our new town of Portland and we were heading off to Aruba to get married. We thought about putting them in a kennel for two weeks, but then found Pet Airways. We flew them back to our home town of Chicago to stay with relatives. We had a fun road trip back after our honeymoon. I hope you get the funding you need to take off again! 
— Amanda Hickey
FLY HIM ON PET AIRWAYS IN ORDER TO MINIMIZE THE STRESS
Our "baby" Kisses, is an almost 16 year old Yorkie Terrier mix – a lost and frightened stray who found us when he was 8 mos. old. Over the years he has filled our lives with joy and many wonderful memories. On July 22, 2009 he was diagnosed with nasal cancer and given a grim prognosis of only 2 mos. without treatment. After some very intense and quick research, we decided to have him treated with radiation at Colorado State University Animal Cancer Center in mid August. Terrified of putting him in cargo, we decided to fly him on Pet Airways in order to minimize the stress and insure that he would be monitored during the flight. Everything worked out so well, and we were very happy with the level of compassion and service provided by the entire Pet Airways staff. Thank you for everything!  
— Barbara, Glendale
HELP AND SUPPORT DURING BUBBA'S STAY WITH PET AIRWAYS!
Flight 1101 from Baltimore. I want to thank everyone for keeping both Dennis Murray and me informed along the way on delays, by-passing Denver because of the snow storm and getting Bubba straight to La. I received a call last night late from the Murray's that they picked Bubba up and he was fine. We certainly appreciate all the help and support during Bubba's stay with Pet Airways! 
— Diana